3... 2... 1...
2019.11.24 16:24
The trip down memory lane begins with the release of
Startup
for Classic Mac OS.
Thinking back on Mac OS 9, I vividly remember the startup screen sporting a bright orange number nine. Imagine my surprise installing Mac OS 9 for the first time in 15 years, only to realize this never really was the case.
So I re-designed the Mac OS 9 startup screen according to my brain. And while at it, I threw in redesigns for Mac OS 8, Mac OS 7 and System 6 for good measure. As with
Yosemite Classic
, all the startup screens have been designed using the official colors of each separate iteration of Mac OS.
...Ignition!
Version History:
Version 1.2:
- Added startup screen for System 6.
- Aligned the grayscale and monochrome startup screens with the full-color startup screens for each version of Mac OS.
Version 1.1:
- Added startup screens for Mac OS 8 and Mac OS 7.
Version 1.0:
- Initial release.
Going Retro
2019.10.23 18:44
A couple of years ago I suddenly got a call from my dear colleague and childhood acquaintance, Dr. Omenaas, wondering if I would be interested in some of the vintage Macs he'd been collecting through the years.
Not only did these consist of what I consider to be the epitome of industrial design, including the iMac G3 DV SE, the iMac G4 and the Power Mac G4 Quicksilver. Not only were all of these able to run both of my all time favorite operating systems, Mac OS 9 and Mac OS X 10.4 Tiger. But he didn't want a dime for them - as long as I promised to give them a good home.
Naturally I agreed

Upon receiving this unexpected gift, they initially represented nothing more to me than beautiful sculptures of fine art to be displayed. But once good ol' Mac OS 9 had been installed on them, they suddenly transitioned into that wonderful warm blanket of nostalgia from years long past. And as I started adding the applications I once used for creating most of my creative works for almost 2 decades, it suddenly dawned on me that I had regained access to all the well-known tools I would never ever have the time to re-learn on modern day hardware - everything from 3D modelling to vector illustration, from music composition to video production, from user interface modification to video game creation.
However, I didn't truly realize how deep the rabbit hole really went until I started trying to find what these marvels could NOT do.
Could they play all my DVDs and DiVX movies? Check. Could they play all my CDs and MP3 music? Check. Could they play all my all-time favorite computer games? Check. Could they browse modern day internet and e-mails? Check. Could they broadcast all of these to my TV? Check. And before I knew it these 20 year old relics had transformed from a simple curiosity to full-fledged media centers as well as my PRIMARY work machines for most things creative.
But for anyone who knows me, I can't ever touch something without leaving my footprint in the snow...
So hold on to your seats while I release some brand new software for some truly classic Macs!

The New Classic
2019.10.11 17:59
Back around the turn of the millennium the Mac jumped lightyears ahead of it's competition with the introduction of Mac OS X. However, this jump also meant leaving a wealth of software from the Classic Mac OS era behind. To offset the inevitable, Apple left the door open for running Classic Mac OS software during the first few iterations of Mac OS X through the aptly named 'Classic Environment'. Though the days of the Classic Environment are long gone, recent versions of Mac OS X still have the ability to run Classic Mac OS software through the use of emulators.
Introducing
Yosemite Classic
, the proper way to dress up your Classic Mac OS emulators.
Yosemite Classic consists of a collection of icons designed using the official colors of each separate iteration of Mac OS, the concept of the original Classic Environment icon, and the polish introduced with Mac OS X 10.10 Yosemite. The icons pay respect to both the past, present and future of Mac OS, and they look right at home next to Finder in the dock where the Classic Environment once resided.
Take a trip down memory lane!
Version History:
Version 1.2:
- Added icon for Mac OS X.
- Gradient of the Mac OS 8 icon intensified due to visual discrepancy.
Version 1.1:
- Added icons for Mac OS 8, Mac OS 7, and Mac OS 6.
Version 1.0:
- Initial release.

On a Limb
2019.09.06 18:07
Following through with keeping my software current and up to date both here at
Mednotes.net
as well as at
MacUpdate.com
, I'm making my Vox 0.2.7 Yosemite Compatibility Update available
over at MacUpdate.com
as well today.
For those of you who prefer a more recent version of Vox and don't mind the background daemons and the monthly subscription fee,
Coppertino
has polished Vox wonderfully for recent versions of Mac OS X. For the rest of us,
Vox 0.2.7 Yosemite Compatibility Update
is here to save the day!
Crank it up!
Kitten Chaos
2019.08.15 22:29
Three days after our first Siberian kitten NO*Trans-Siberia Lily moved to her new home, I got a frantic call from her new owner. The youngest child in their household sadly had developed a cat allergy. They were not willing to try medication, nor were they willing to wait out the next couple of months until Lily becomes truly hypoallergenic.
So what do you do when one of your babies suddenly face uncertainty, whether it be relocation or euthanasia? For me, the only right thing to do was to welcome Lily back into our family. And, for the shortest while, our little cat family was whole again.
Since then, both of Lily's brothers, NO*Trans-Siberia Milo and NO*Trans-Siberia Nemo, have moved to wonderful new homes. Lily will forever stay here with us.
Who knows? Perhaps Lily one day will have
a litter of her very own...

Performance Boost
2019.07.26 01:01
Despite Apple's best efforts,
Hardcover 2
pushes forwards with a brand new release. Hardcover 2.2 adds the much requested contrast between the foreground track information and the background frequency spectrum in Hardcover [Aurora]. Version 2.2 also brings major codebase reorganization and performance optimization ensuring the best possible experience on any Mac you decide to run it on.
Smooth sailing!
New in Hardcover 2.2:
- Added highly requested contrast between the track information and the frequency spectrum in Hardcover [Aurora].
- Performed major performance optimization ensuring that Hardcover runs perfectly smooth on any Mac sporting an Intel processor (and hopefully also on any supported Mac sporting a PPC processor).
- Performed major codebase reorganization.
Old News
2019.07.12 22:34
Keeping my software up to date across the web has proven to be quite a daunting task. Not only has it become virtually impossible to keep track of every single last web site providing links to my software, but whether or not those web sites are maintaining separate copies of my software on their own servers and whether or not those web sites keep those copies updated, has complicated an already almost impossible task tenfolds.
As such, I have gradually accepted my faith that the web as a whole is outside my reach, and shifted my focus to ensuring that my software is updated here at
Mednotes.net
as well as on the largest third-party platform for Macintosh software,
MacUpdate.com
.
However, it recently has come to my attention that my
EMUlaunch Front Row Skin
disappeared from the MacUpdate database during their server migration earlier this spring. Today I am righting this wrong, and my EMUlaunch Front Row Skin should now yet again be available
over at MacUpdate.com
.
Enjoy!

Kittens Complete!
2019.06.29 14:12
And just like that, all of our Siberian kittens have been adopted to new safe and loving homes.
I would like to thank all the wonderful people we have met on this amazing journey, and wish each of the kittens' new families the best of luck with their furry new family members!
We are
not
planning any additional litters as of the current moment. But in case our plans change, feel free to drop by
Trans-Siberia.net
from time to time.
Perfect Pussies
2019.05.25 20:05
Our wonderful Siberian cat 'Lolli' gave birth to three divine purebred Siberian kittens this easter, and they are quickly growing up to become true heartbreakers! Our journey with them is now nearly halfway done, and they will be ready for a new place to call home already by the last weekend of June 2019.
If you want to take a peek at these adorable little tabbies, pictures and details are now available over at
Trans-Siberia.net
. And if you by any chance live in Norway and would like to come visit (or adopt

) one of these hypoallergenic wonders, feel free to
drop me a line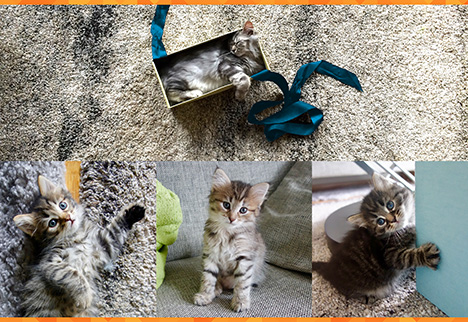 Gigantic Milestone!
2019.04.23 00:08
Sometime during the spring of 2017
Mednotes.net
thundered past it's 1,000,000th distributed medical compendium. It's a shamefully late celebration, I know. But you know what they say...
...better late than never

I'm lost for words when trying to comprehend the sheer quantity of my works that have been downloaded over the years, even more so when factoring in the rate of secondary physical replication in markets I still keep tabs on. And it truly blows my mind when even trying to wrap my head around the very real possibility of a similar rate of secondary replication occurring in all the markets I have no insight into.
I have to admit I'm a little shocked from the frequency I still meet my notes in real life, whether in corner coffeehouses, in student libraries, or brought to my doctor's office by my actively studying patients. And this has been quite the reality check for me, especially considering my initial long-term strategy of retiring the web site once it turned 10 years old. But the web site is still hanging in there, going on it's 13th year...
...and we're now both in it for the long run

So thank you so much, every single one of you, for all the
kind words
though the years, for all the
donations
keeping this web site up running, and, most of all, for all your relentless motivation to become the best possible health professionals you can be!